YinMn Blue
A New Pigment To Add To Your Palette
A new pigment has been made available in the raw materials market, currently referred to as Yin Min Blue. As part of Derivan's philosophy, primarily as traditional "colourmen" in the traditional practice of artists paint manufacturing, we are currently developing this pigment into a new hue of blue artist acrylic, which will become part of and complement the current range of Matisse Artists Acrylics. It will sit alongside other synthetic inorganic pigments like Ultramarine Blue, Prussian Blue and Phthalo Blue. While the pigment manufacturers believe this pigment to be extremely permanent We are also undertaking further tests to ascertain this pigment's lightfastness rate. It is important to remember this is a very new pigment, in whichever way discovered, and final classification and characteristics in artistic terms have to be allocated in the process of testing, developing and manufacturing.
Artists and colourmen historically have always been on the path of discovery, research and experimentation to arrive at new pigments to be used in painting and all forms of art making. Naturally occurring pigments have been used since prehistoric times, and with the advent of the industrial revolution, a vast expansion in the range of synthetic pigments available was brought forward.

Not mainly developed for artistic purposes, the characteristics of this newly "found" inorganic pigment (quoted as the first new blue in over two centuries), "Yin Min Blue", will undoubtedly have art applications. This is not the first pigment in this category to find a niche use in the art world.
Yin Min Blue is actually the result of a "happy " accident in the research for new materials that could be used in electronic applications. In the course of the study (by an Oregon State University College of Science team led by chemistry professor Mas Subramanian), manganese oxide was mixed with other compounds (hence the classification YlnMn which stands for Yttrium (Y), Indium (In) and Manganese (Mn) elements) and heated at high temperatures to test for structure. It was noticed that one of their samples turned out a very vivid brilliant blue colour.
One of the most remarkable structural characteristics of this pigment is that absorbs red and green wavelengths of light and while at the same time only reflecting the blue wavelengths in the light spectrum. This new inorganic pigment has been described as an intense blue colour with high solar radiation (IR) reflecting properties. As it has been observed, the resulting vibrant blue appears to be very durable, and its core compounds are said to be so stable that "the colour does not fade".
So, considering these facts, the initial application and use intended for this pigment will be in a variety of commercial products, for example as paint coatings for buildings and roofs. The coat of paint would help to keep buildings cool by reflecting infrared light.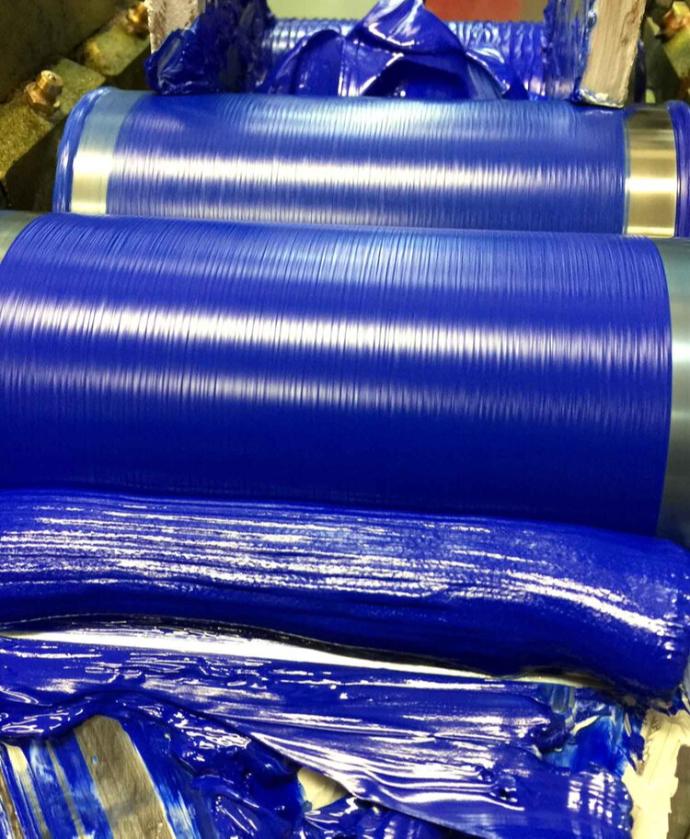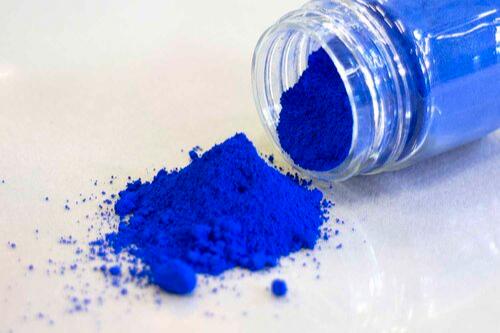 In artistic terms, Yin Min Blue (or YlnMnBlue, as it is quoted on research notations) has a brilliant, almost shimmering look with a, maybe, very slight red undertone. Research notes from evaluation testing of samples indicate a higher optical reflectance (vividness) than other blues in the colour spectrum, this is all due to the compounds in the structure of the pigment particles. Another crucial factor to consider, and in direct relation to health and safety, is that none of this pigment's compounds is toxic.
The brilliance of this pigment is reminiscent of Ives Klein Blue, (although not discovered but developed by him with his own mix and proportions of binder and pigment - ultramarine). Yin Min Blue would have just as a vivid look in appearance (or more) providing an alternative to Ultramarine Blue with the added benefits of refracting infrared wavelengths, making it highly lightfast (in archival terms) and, with no toxic compounds, making it a very safe pigment to use, in paint form or dry.
PLEASE NOTE: This pigment has moved to the next step and now been classified by the regulatory bodies in the US for use "in" paint preparations (but not to be sold as dry pigment) and is in commercial trials. While we believe it to be an inert, safe pigment to use, caution must be excised with it. Therefore the use of personal protection equipment such as gloves and masks is essential until more is known about the pigment.
To install this Web App in your iPhone/iPad press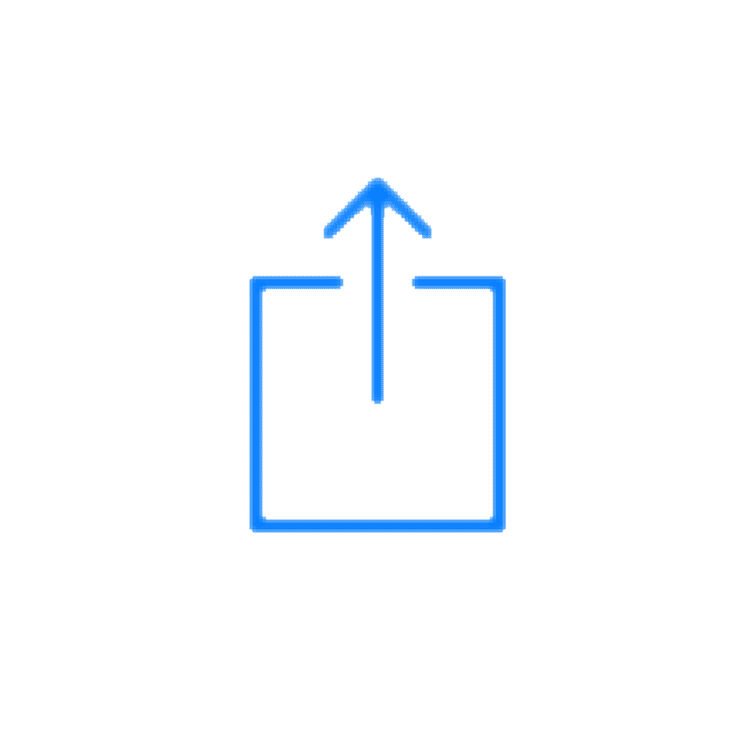 and then Add to Home Screen.